3 Reviews
Outstanding dressing! We have a lot of limes from our tree right now, so made this with our Bearss limes and it was a lot like a caesar dressing. I doubled the lime and used less salt. We thoroughly enjoyed it, and would definitely make it again. I made half of a recipe for 4 large salads.

Tangy delicious! I appreciate recipes that can be made ahead so made this morning. I did reduce garlic as poster suggested and I also halved the salt amount. Served over roasted cabbage and it was excellent! Thank you, Cinnamon Turtle, for sharing.

This is absolutely fabulous! I love lemon, and I love this dressing. I have made it three days in a row, which is a testament in itself. I use the juice from one lemon, add the zest, and followed the directions precisely. I think the hint of Dijon really adds a nice dimension. Thanks for sharing this excellent recipe. Made for Newest Zaar Tag Game.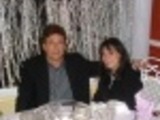 Perfect Lemon-Garlic Dressing