Perfect Homemade Hash Browns
momaphet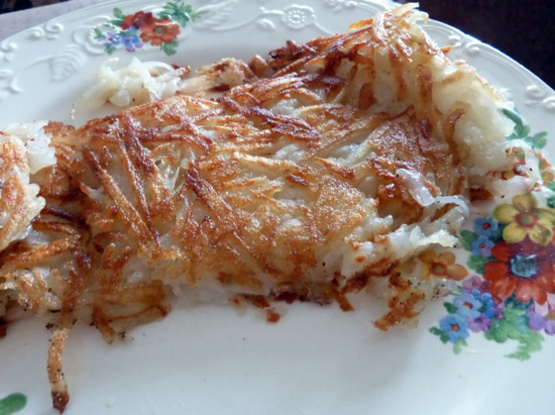 They're crispy on the outside and tender on the inside, and not overly greasy ... what more could you want? I especially like the flavor of the butter/oil combination rather than only oil. Add onions or jalapenos, if you like; melted cheese on top is always good, too!
These were Excellent! I used bacon grease in place of the vegetable oil and cooked them over medium to high heat, other then that I followed your directions exactly. They were not at all greasy, I think the key to not having greasy hash browns is to partilly cook your potatoes. My husband still thinks his are better, but I like yours, shhh. Thanks EdsGirlAngie....
1

lb medium-sized russet potato, peeled but left whole (I like to use older potatoes)

4

tablespoons vegetable oil

2

tablespoons butter
salt and pepper
Cook whole potatoes in a large saucepan of salted boiling water for 10 minutes; drain and let cool.
When potatoes are cool enough to handle, grate them with a coarse grater.
In a large non-stick skillet, heat oil and butter together and cook hash browns over medium-low heat for about 10 minutes on each side, or until crisp and well-browned.
Resist the temptation to stir them around; just lift up an edge periodically to check on browning.
Serve immediately.