Perfect Ham and Cheese Scrambled Eggs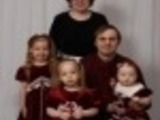 I hate scrambled eggs. Except, that is, when I make them. These, I like. If you're looking for firm eggs, go somewhere else; these are both moist and gooey, while not undercooked (I have a horror of salmonella). Simply double to serve 3 to 4 (or two people with bigger appetites).
Directions
Spray non-stick frying pan with cooking spray.
Heat up over medium to medium-high heat.
(Use medium on an electric stove, medium-high on a gas.) While pan is heating, whisk together eggs, Worcestershire sauce, milk, salt, and pepper with a fork, just until blended.
Pour into pan and stir continually for about 2 to 3 minutes, until eggs are cooked.
Because of the milk, they will remain moist, but they should not be runny or sticky.
Turn off heat, but leave pan on burner.
Add ham and cheese.
Stir until everything is mixed, ham is heated, and cheese is melted.
Yum!
Reviews
Most Helpful
Just okay to me. You really have to like Worchestershire for this to work for you. It seems pretty strong. Would have given 3.5 stars if available but since that's the only thing different about how I normally make scrambled eggs, I'll be looking for another twist next time.
I never make breakfast foods, so BF was surprised when I made these. We really enjoyed them. I made these using cubed ham, fat free cheddar cheese, and egg substitute. I think I'll try a little more Worcestershire Sauce next time just to bring the flavor of it out some more.
YUM! I made these today because I had some ham I wanted to use up. I enjoyed the Worcestershire sauce but would use a bit more next time. Thanks for an easy breakfast. :)