Perfect Ham and Bean Soup
Pam-I-Am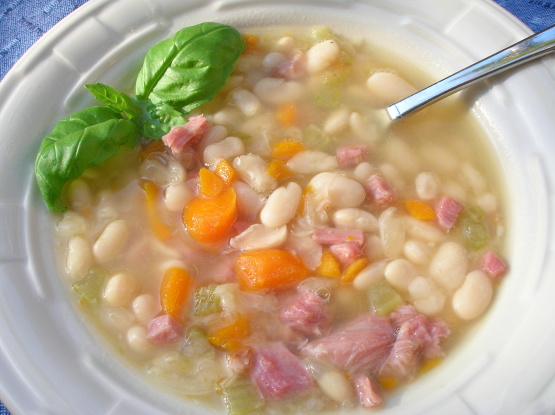 This is a recipe that I got off of another recipe site and it makes the most delicious ham and bean soup! I make it anytime that I have leftover ham and a ham hock. It is very important to use a ham hock, and it is not to be made in a crockpot. But, made as directed, it is the best that I have ever tasted!

Not a fan. My husband said it was good the first time, but since I had leftovers, it did not save at all. It tasted awful...mustardy and...ugh. Not sure what I did wrong, although my husband was in charge of the last step..
After rinsing and sorting beans, place water in large saucepan and bring to a boil.
Add salt and beans and remove from heat.
Let beans sit in water for one hour.
Add ham hock, onions, carrots, celery, garlic, mustard, and bay leaves.
Stir throughly.
Bring to a boil, then simmer over low heat for one hour.
Remove ham hock.
Add ham, stir, and simmer for 30 more minutes.
Remove bay leaves.
Season with pepper and serve.