ChefLee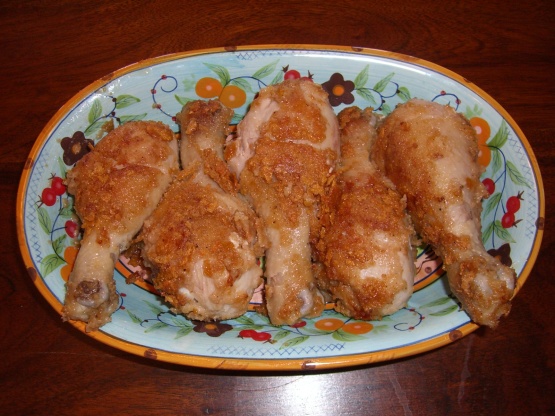 I have used this recipe for nearly 30 years. It's always turned out great for me. It's important to dry the chicken pieces after rinsing so that the flour/and or/batter will adhere to the chicken. After frying, it's important to drain the chicken well on brown paper bags, and to salt the chicken when first placed on the paper bags. Note: Peanut oil is the best type of oil to use for frying, as peanut oil has a higher smoking point of any other oils. That allows the chicken to cook at higher temperatures without burning.
Rinse the chicken pieces and dry thoroughly with the paper towels.
Pour milk (Undiluted) into a large pie plate. Dip chicken into milk.
In a clean brown paper bag, combine flour, cornflake crumbs, salt, pepper and paprika, if using. Then shake chicken, a few pieces at a time, in crumb mixture in the bag, coating well.
Pour peanut oil, or whichever oil you prefer. (I use peanut oil because it has a greater smoking point than other oils).into pan at about 1/2-inch deep, may need more.
Heat the oil slowly.
Brown the chicken lightly, turning with tongs.
Cover; reduce heat; cook 40 to 45 minutes, turning occasionally to ensure even browning.
Remove cover; cook 5 minutes longer to crisp the crust.