loof751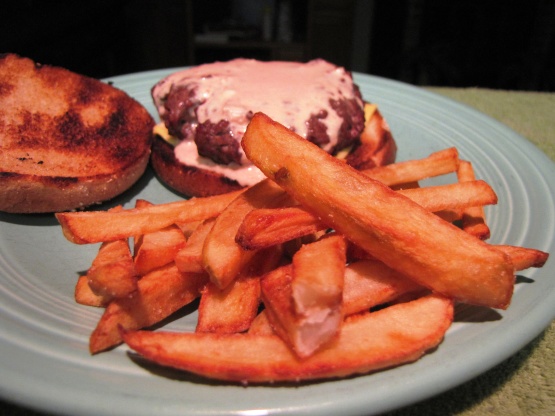 Found this here: http://www.seriouseats.com/recipes/2009/06/perfect-french-fries-recipe.html It's adapted from a cookbook.

This method really does make perfect french fries! I rarely fry in oil like this but I had some really great burgers planned for dinner and wanted some REALLY great fries to go with. These did not disappoint - they're terrific! Thanks for posting this recipe!
5

large russet potatoes, peeled (or well scrubbed if leaving leaving the skin on)

1

quart peanut oil
Cut the potatoes lengthwise into 1/4-inch-thick slices, then cut each slice lengthwise into 1/4-inch-thick fries. Put the fries in a large bowl of cold water and refrigerate for at least 1 hour or up to 8 hours.
Heat the oil in a heavy-bottomed medium stockpot over medium heat, or in a tabletop deep fryer, to 325°F Line a baking sheet with paper towels and set aside.
Drain the fries well and pat dry in batches with paper towels. Fry each batch, turning frequently, for 3 to 4 minutes or until the fries are a pale blond color and limp. Remove with a mesh skimmer to the baking sheet lined with paper towels.
Increase the heat of the oil to 375°F.
Fry the potatoes again, in batches, turning frequently, until golden brown, 3 to 4 minutes. Remove with the skimmer and drain on clean paper towels. Season immediately with salt and serve hot.