Sageca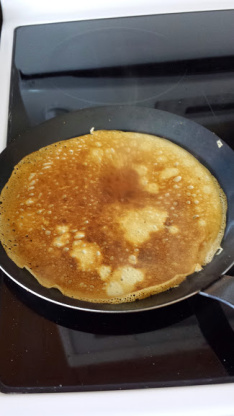 After trying many other recipes I came back to my original that always gives me perfect result.These can be served with a chicken or seafood filling.Check out my Chicken French Crêpes. Also for a special dessert with sliced fruits, whipped cream or a custard. My crepes pan is a 24cm. 91/2 inch steel pan. I find using a blender produces a smoother batter and a lighter crepe.
Have your ingredients at room temperature before starting. Mix together the flour and salt in a large bowl.
In a blender combine eggs, milk, 2 Tablespoon melted butter and flour mixture. Blend until smooth scraping the side of the blender a few times. Pour into that bowl you used for the flour and set aside.
Leave the mixture to rest for 30 minutes before cooking.
Heat your pan to Medium High. Add oil and wipe it off with paper towel; set it on a plate and use this to wipe your pan after making each crepes.
Pour some batter into the hot pan and tilt the pan so that the batter spreads out evenly. Cook for a minute tilting the pan in all directions to cover bottom of pan. I used 3 Tablespoons of batter for my 9 inches pan. This works well with a 1/4 measuring cup.
When the edges start to curl, use a spatula to flip crêpes and cook another minutes. Slide crepe on a rack; cool. Stack on a plate separating them with a piece of wax paper. You can refrigerate them for 3 days before serving. (Can be frozen at this stage, wrapped tightly for up to 3 months).