lazyme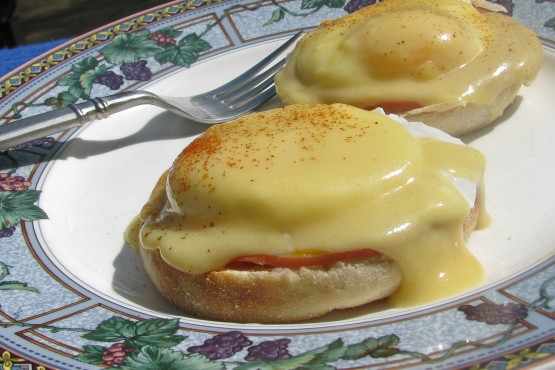 I got this recipe when I was about 13 from my grandmother, and after all of these years, it's still a family favorite.

Top Review by ImPat
Absolutely delicious, I sliced off 2 thick slices of smoky ham straight of the leg and with the poached eggs and hollandaise sauce and the toasted English muffin and that sprinkle of paprika made for a delicious breakfast which I shared with my DM and we both thoroughly enjoyed. Thank you foodchef2 and lazyme for the recommendation, made for I Recommend tag game.
Poach egg until whites firm but yolk soft.
Lightly toast english muffins until slightly golden brown.
Place ham slices on top of english muffin halves, with corners tucked in to conform to shape of english muffin.
Top the ham with the poached eggs, yolk side down.
Cover each half with 3 tablespoons of the Hollandaise sauce, and spread to cover the whole egg.
Sprinkle top with paprika (if desired).
SERVE AT ONCE.