Redsie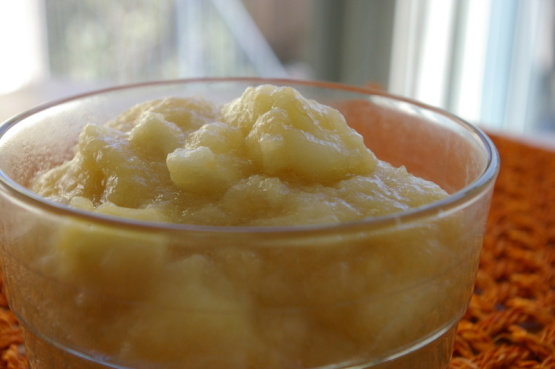 A farm-girl friend of mine taught me how to make applesauce about 10-years ago, and recent trips to a local orchard brought all her teaching back to me. This can be made with a food processor, but I love the way the Foley Food Mill separates out the peel and strains to sauce to the perfect consistency. I think it is a must have kitchen utensil that can be passed from generation to generation! I choose Empire apples because they have a perfect texture for sauce and the sweet-tart taste I love! (If not using the Foley Mill, I suggest peeling and coring before cooking. You won't have to pick out the peels later then. You can either use a food processor or just a potato masher depending on how chunky you like your sauce)

Top Review by Redsie
Went apple picking so had loads and loads of apples to make applesauce!! If I had known how good your sauce was, would have doubled the recipe!! So easy (the tough part is preparing the apples!!) - and so TASTY!! We loved it!! Would add less sweetener next time - as my apples were sweet. Will be making another batch soon!! Cooked for about 40 minutes until the apples were "mushy" but not too much!! Thanks Cooks!! :)
Use sectioned apple slicer to easily core and slice your apples (or do it by hand).
Place apples, water and cinnamon sticks in a large, heavy pot.
Cover and bring to a boil.
Reduce heat and simmer for about 15 minutes or until the apples are soft.
Remove cinnamon sticks and process in batches in the Foley Mill (check out ebay or Ace Hardware for Mills). Stir in remaining ingredients.
Serve warm topped with butter! Or eat cold from the refrigerator! Or warm topped with cinnamon sugar pie crust pieces! Or freeze for later use! So much better than jarred sauce!