ArleenS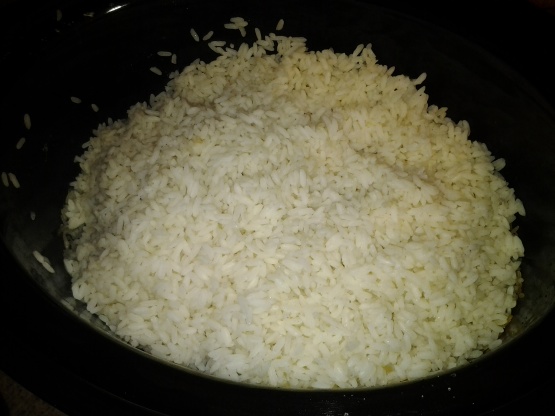 You can cook rice in the slow cooker.

This is great! I used 2.5 cups plain white rice with 5 cups of water (that was all the rice I had). I rubbed the slow cooker with some olive oil, rinsed the rice, and put the rice, water and salt in the slow cooker. I also added a cube and a half of organic chicken boullion. I stirred once near the beginning, but then forgot to do it again after. I almost left it in too long, I'll have to remember to set a timer next time. I had it in there for just over two hours. I will definately be doing this again, next time with more rice! Update: I have also made this with brown rice (following the water/rice ratio on the bag) and it worked perfectly! I find this method much better than my rice cooker.
Rub your slow cooker lightly with 1 tablespoon butter or margarine.
Pour in rice, water and salt.
Cover and cook on High 1 1/2 to 2 1/2 hours, stirring occasionally.
Note: Up to 4 cups raw rice may be prepared in slow cooker making 10 cups cooked.