Perfect Crispy Potatoes (Recipe Courtesy Melissa D'arabian)
alligirl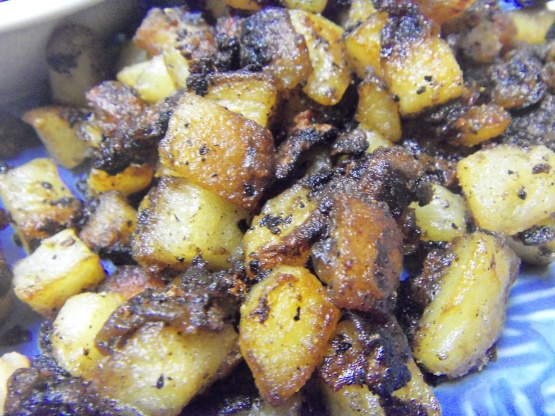 Yummy, Crispy Potatoes Recipe courtesy Melissa d'Arabian

These were delicious, but mine were overly done, from turning the pan up to high. I know better, but was following along...I think medium is great for cooking these, with a quick turn-up to medium high before they go into the oven. I used my cast iron skillet, which I know is good at holding heat. They were good, as we don't mind things that are 'done'. Next time I make these, I'll use the temperature adjustments mentioned. Thanks for sharing, ilovecookingsomuch.
Preheat oven to 375 degrees F.
In a large saute pan, heat the oil over medium-high heat. Add the potato cubes and season with salt and pepper, to taste. Saute stirring frequently, for 5 minutes. Turn the heat up to high, add the water, stir, and cover the pan with a lid. Steam the potatoes until the water evaporates, about 3 or 4 more minutes. (Every 1 to 2 minutes, open the lid long enough to stir the potatoes so they don't stick.) Lower the heat to medium, and saute another 1 to 2 minutes until all traces of water are gone. Toss in the butter and stir to coat the potatoes. Spread the potatoes out on a baking sheet. Bake in the oven until the potatoes are crisp and browned to your liking, about 15 to 25 minutes depending on how dark you want them. Transfer the potatoes to a serving bowl and serve.