Perfect Confetti Coleslaw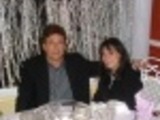 Plug in the food processor and get ready to grate your way to a great side of slaw: colorful, creamy, and a real crowd pleaser. The 2 hours chilling time is not included in the prep time.
0 head green cabbage, core removed
0 head red cabbage, core removed
2 small carrots, pared, trimmed
1 medium zucchini, ends trimmed
1 large yellow squash, ends trimmed
1 medium yellow bell pepper, stemmed, seeded
1 medium red bell pepper, stemmed, seeded
4 scallions, minced
236.59 ml sour cream
29.58 ml apple cider vinegar
14.79 ml sugar
2.46 ml salt
1.23 ml fresh ground black pepper
Directions
Using food processor fitted with fine grater blade, grated cabbages, carrots, zucchini, and squash. Transfer to medium bowl. Grate bell peppers in processor and squeeze dry with hands. Add peppers and scallions to bowl. Refrigerate covered at least 2 hours or overnight.
Whisk remaining ingredients together in small bowl and refrigerate covered.
Just before serving, stir dressing into vegetables.
Reviews
Most Helpful
Tasty and full of vegetables. I used half sour cream and half mayo. I served this with an eggplant veggie burger and had a great dinner. Thanks!