Perfect Competition Chili
Derf2440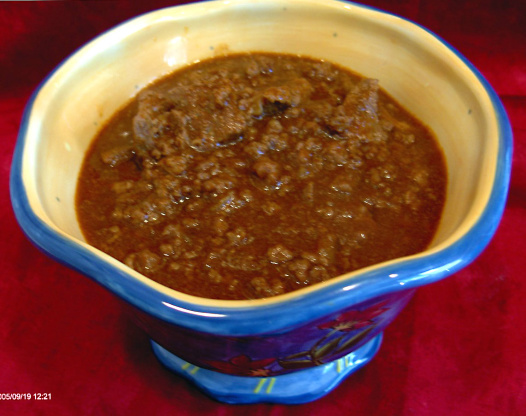 My husband makes this every year for our church's chili cook-off. He has placed every single time he's entered it. Half the judges always tell him that this was the best chili they've ever had.

This was good but differen for us. I normally make chili with beans. We thought there wasn't enough sauce so I added another cup of beef broth and another can of tomato sauce. I also only used four tablespoons of chili powder because I was afraid eight would be too much for us. I also forgot the onion powder. We enjoyed it. My one son ate it on tostido chips and chips.
Brown ground beef in oil.
Add in broth, bouillon, tomato sauce, onion, 1 teaspoon garlic powder, 2 Tablespoons chili powder, and tabasco.
Bring to boil, reduce heat and simmer 1 hour.
Add salt and pepper, onion powder, 1teaspoon Garlic powder, chili powder, 1 tablespoon cumin, paprika, and 1 teaspoon red pepper flakes. Stir and simmer another hour.
Add remaining cumin and red pepper flakes, stir, and cook 30 more minutes.
Best if prepared the day before and reheated the next day.