" Perfect" Chocolate Frosting
Ms B.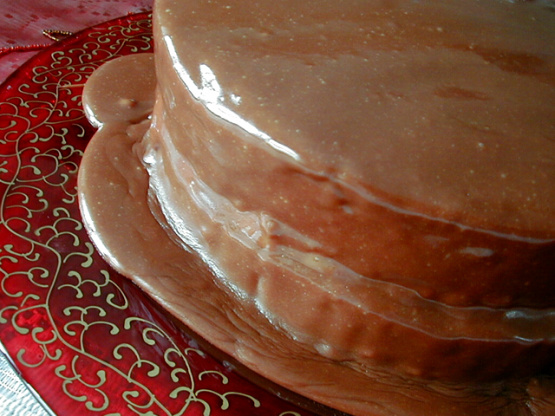 This is now one of my favorite chocolate frostings. I got it from "The Chocolate Cake Mix Doctor" by anne byrn. I have made a few changes to the recipe. Actually, I didn't have the 1 cup of semisweet chocolate chips that the original recipe called for. Lennie came to the rescue (thanks!) by figuring out the appropriate amount of semisweet squares to use, which I did have on hand. Now I always make it with the squares instead of the chips. This frosting is very thick, creamy, and fudgy. I usually bake two 9-inch layers, cut them into four layers, and slather this frosting on each and every layer and all over the top and sides--because I like a little cake with my frosting :) Another thanks goes out to leeannr for making me post this recipe. Now she loves it as much as I do.

taylortwo is so right about this frosting! If you're looking for thick, creamy and fudgy, as well as easy, this one is it! I've made it twice already, since tt told me about it. First time with Ghirardelli chips, second with Baker's semisweet. After just having the last piece of the cake with the baker's frosting, I have to say that I liked it better with the chocolate chips. It was more on the rich chocolate side, and improved daily. But surprisingly, they were VERY close! I didn't think it would be nearly as good with Baker's, but it really was. This frosting is a dream to spread on a cake. The first time, I did have to reheat it on low for a few seconds at a time--just put the pan back on the heat, give it about 5 secs or so, and it's nice and soft again. Your cake will be beautiful and glossy with this one, in fact, I think it would be near impossible to make a cake look bad with this. It has it all, ease of prep, great flavor, good looks, AND it's usually stuff you already have on hand. Way more than 5 stars, for sure. Thanks tt, this is the only frosting I'm making from now on! DON'T FORGET!! You MUST sift the powdered sugar, or your frosting will be lumpy--do not skip this step to save time.
Place a large bowl, filled halfway with ice, in the sink (a bowl that is large enough to hold the pot that you will cook the frosting in).
In a medium size pot over medium low heat, melt chocolate, cream, and butter.
Stirring constantly, cook the mixture until all of the butter and chocolate melts and thickens.
Cook for 5-6 minutes.
DO NOT LET BOIL.
Remove pot from heat.
Whisk in the sifted confectioners' sugar until mixture becomes smooth (approximately 1 minute), then put the pot on top of the bowl of ice (be careful to not allow any ice from the larger bowl to get into pot with the chocolate mixture).
Beat with an electric mixer on low speed for 4-5 minutes until frosting becomes smooth, thick, and fudgy.
Remove from ice.
Spread onto cooled cake layers.
The frosting will thicken as it sets up.
If the frosting gets too hard to spread, put back on LOW heat and stir constantly until you get the spreading consistency desired.
***I have been adding 1 Tbs. of light corn syrup to the initial heavy cream and chocolate mixture to add more glossiness to the frosting.***.