Perfect Chicken and Dumplings
This is very basic and easy to make. It does not contain vegetables like a lot of other recipes do. Prep time includes boiling the chicken.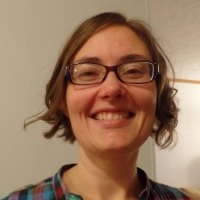 This was pretty good, but time consuming. I used about 2.5 lbs of chicken legs. I wasn't sure how long to boil them, but it ended up being about a half hour, maybe a little over. I started with 3 quarts of water and after boiling the chicken, cooking the noodles, and the extra simmer time in between (because I never have everything ready!) when I made the dumplings, I ended with about 1.5-2 quarts of broth. Even cooked down that much it wasn't very strong flavored. I had to add quite a bit of salt and pepper to the pot. The dumplings themselves were good, dense and chewy.
Boil the chicken in the water and bouillon cubes.
You can use any combination of chicken parts, just be sure to use chicken with the skin on.
When the chicken is done, remove it from the broth and chop the meat into bite sized pieces.
Take 1 cup of the broth and add the egg and enough flour to make a stiff dough.
Roll the dough out on a floured surface and cut into strips about 1x2inches.
(dough should be about 1/8th of an inch thick).
Drop the strips into the remaining broth (it should be boiling first).
Simmer them for 30 minutes.
Add the chicken pieces during the last 5 minutes.
Add salt and pepper if needed.