Perfect Blueberry Pie Filling
Elizabeth W.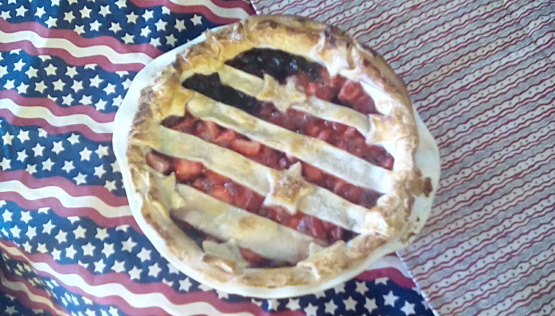 I love the the texture and flavor this technique produces in making blueberry filling. If you are tired of the overly processed and overly cornstarched taste of blueberry pie filling, give this a try. Method produces a "fresh blueberry" taste.

Absolutley perfect!! I doubled the berries, sugar, and cornstarch/water to make it thicker to use as a filling for a cake. Then added the blueberries and it worked amazingly. Its a little sweet with all the sugar. To speed up the liquid process in the begining add a tablespoon of water to the sugar and berries. Tastes wonderful without the spices as well.
Combine 1 cup berries with 3/4 cup sugar in pan.
Simmer on low heat until sugar is melted and mixture is very liquid; about 5 minutes.
Combine cornstarch and water in bowl.
Add to pan with blueberries.
Cook over medium heat until mixture comes to full boil and is clear and thick.
Pour hot mixture into large bowl.Cool until warm.
Fold in remaining 3 cups of blueberries, lemon rind, cinnamon,nutmeg and butter.
Let cool before adding to pie crust.
Add top crust and brush with egg wash, sprinkle with sugar.
Preheat oven to 400°F but reduce heat to 375°F when you put pie in oven. Bake about 40 minutes. Check pie halfway through baking; cover edges with a strip of foil if edges are getting too brown.
This technique works for any delicate fruit such as raspberries or strawberries.