gailanng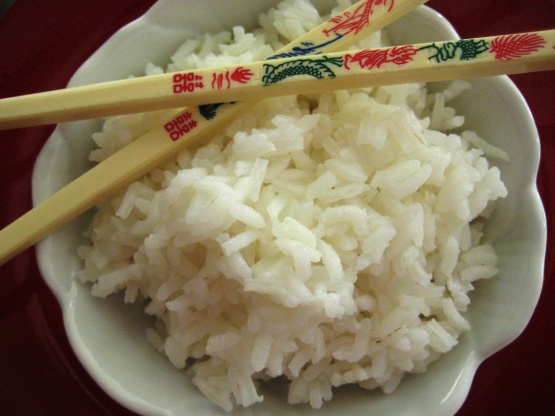 You do not need to be afraid of cooking rice again! lol Real rice is so much better for you than instant. So here is a basic recipe that will have you cooking rice like a pro!

I've banished the boil in the bag variety and retired my rice cooker, cos I've found Mama's method, tried & true! I've been making rice this way for so long, my apologies for not (thanking Mama, and) reviewing this recipe sooner. I have used this method with white rice and par-boiled with no problems (other than it's hard to put the fork down!) I usually make this with chicken broth in lieu of water, as my family loves it. Thank you.
In a saucepan with a good fitting lid bring water, salt and butter if desired to a boil.
Add rice and stir.
Cover and reduce heat to medium low. You will know that your temperature is correct if a little steam is visible leaking from the lid. A lot of steam means your heat is too high.
Cook for 20 minutes.
DO NOT LIFT LID!
The steam that is trapped inside the pan is what allows the rice to cook properly.
Remove from heat and fluff with fork.
Serve!