Perfect Basic Dinner Rolls
Rose W.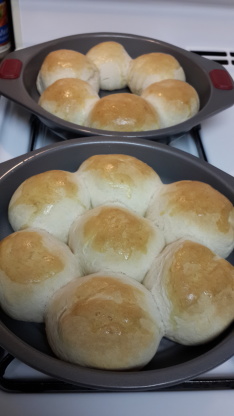 These rolls come out soft and chewy, in less then an hour. I've done them with just about every add in you can think of, and they always come out perfect.

Excellent.......I can't say enought about the ease of making these beautiful homemade dinner rolls. They were so enjoyed. I made as directed adjusting rise time to accomodate my non-instant yeast. The 4 cups of flour was right on to form a slightly sticky dough. I had to bake them for an additional 10-12 minutes to get them golden. I brushed them with melted butter to aide in the browning. I will probably up the oven temp to 375 next time. Thank you so much for sharing this great dinner roll recipe. Made for "Let's Party 2011"
Add water, yeast and sugar in mixing bowl, allow to bubble (about 4 min).
Add salt and flour slowly, checking for consistency. You may need to use as much as 1/2 a cup extra flour- dough should be firm but slightly sticky.
Place in greased bowl and allow to double (15-30 minutes).
Flour your hands and separate into 12 rolls on greased pan. Allow to rise 15 minutes more.
Bake at 350°F for 15 minutes.