Perch or Snapper Fillet With Tomatoes and Onion
Derf2440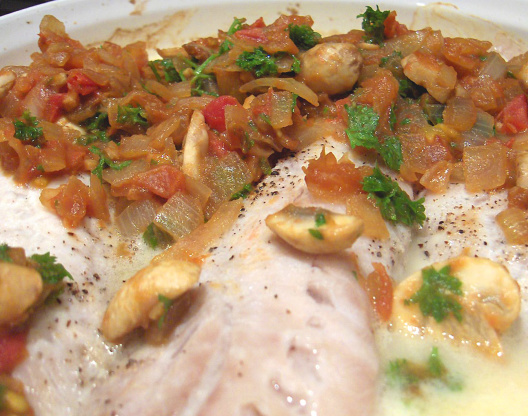 From Kings cooking studio. Goes well with cous cous or rice.

very good. The only thing I did differently is I added a quarter of an orange bell pepper (i had one on hand and had to use it up) and a 1/4 cup of white wine to the tomato and onion mixture. I was hesitant to try perch, but I was pleasantly surprised!
Preheat oven to 325 degrees F.
Coat a baking dish with canola oil thoroughly and add the fillets skin side down.
Pour the lemon juice over the fish and bake approximately 8 minutes or less, the fish will flake when touched with a fork when done.
While the fillets bake, heat a medium saute pan over medium heat and add the olive oil to it.
Heat the oil and add the garlic and onions.
Once the onions are translucent, add the tomatoes and parsley.
Continue to saute for approximately 5 minutes over medium heat.
Remove the fillets from the oven and serve with the tomatoes and onions on top.