ImPat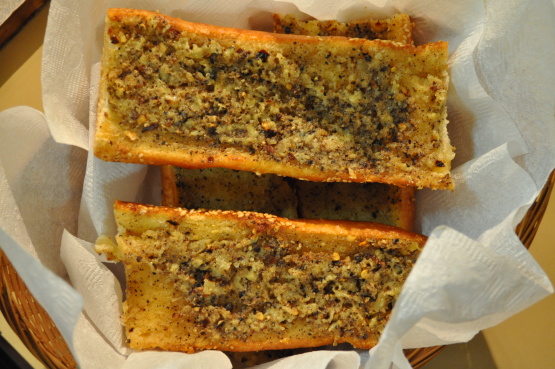 Yummy garlic bread with coarsely ground black pepper and a little kick of red pepper flakes.

Top Review by ImPat
Well this was certainly different using mayo instead of butter but would have to say too heavy on the pepper for us and would like fresh garlic over powdered and unfortunately had to use a cheddar cheese instead of parmesan (I'm the only one in the family that likes parmesan - the rest refer to it as stinky cheese), so feel that the subbing of the cheese could have made a big difference but overall 2 out of 4 gobbled up and the other 2 only ate 1/2 to 3/4 of. thank you KlynnPadilla, made for Potluck Tag Fall 2009.
Preheat oven to 350.
Slice bread in half lengthwise, then cut each half into 5 slices. Spread each slice with mayo.
Mix together the cheese, garlic powder, salt, black pepper and red pepper flakes. Sprinkle evenly onto bread slices.
Reconstruct loaf, wrap tightly in aluminum foil, and bake about 20 minutes until hot and toasted.