Peppi's Stuffed Mushrooms
Peter J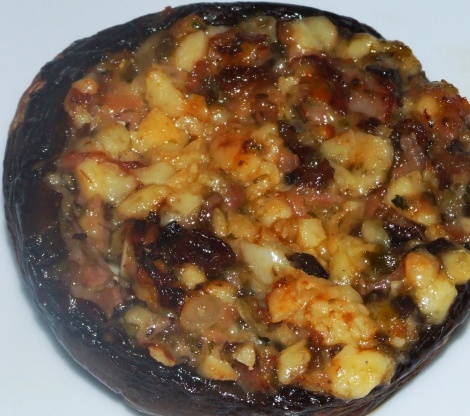 From a local Vancouver, BC Restaurant. I am posting to try one day.

Really enjoyed these! I thought if there was one drawback it was maybe the sweetness of the raisins didn't suit the mushroom juices and saltiness of the other ingredients so I think next time I'd leave them out. Only change I made was I only had dried parsley so used 1/2 tablespoon initially and didn't sprinkle over any additional amount before baking.
Preheat oven to 375 degrees.
Remove the stems from the mushrooms and chop.
Scrape undersides of mushrooms into bowl using the handle of a teaspoon.
Add chopped stems, ham, raisins, pine nuts and capers.
Melt butter in a skillet, add mushroom mixture and cook until liquid has evaporated.
Stir in garlic, one tablespoon of the parsley, salt and pepper and 1/4 cup of parmesan.
Stuff mushrooms with mixture and arrange in a shallow buttered pan.
Sprinkle remaining tablespoon of parsley and remaining 1/4 cup parmesan over mushrooms and bake 20 minutes.