Calee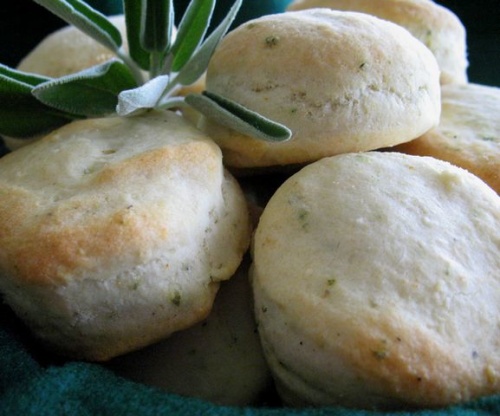 Buttery rich biscuits perked up with cayenne pepper, black pepper and sage.

Top Review by Kim127
You could really taste the butter in these little biscuits. We had them with grilled steaks and garden salad, which turned out to be a great combination. I loved the sage flavor. I was a little cautious with the cayenne pepper and just added a little to ours, but I would add the whole 1/4 tsp next time.
Preheat oven to 425°F.
Blend flour, baking powder, salt, sage, cayenne and black pepper in food processor or large bowl.
Add cold butter and pulse, or quickly blend with your fingertips, until mixture resembles coarse cornmeal.
In a small bowl, whisk together milk and egg until blended. Add to flour mixture and process just until moist clumps begin to form. Do not overmix or you'll have "rubber" biscuits!
Transfer dough to a floured surface and knead until it holds together, about 6 turns.
Roll out or pat dough to 1/2" thickness. Using a floured 2" biscuit or cookie cutter, cut out biscuits. Reroll scraps and cut remaining biscuits.
Transfer biscuits to a large nonstick baking sheet.
Bake until golden brown, about 12 minutes.