loof751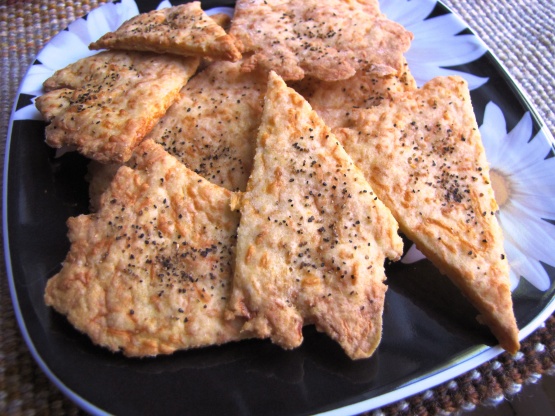 A cheesy, crisp little snacky for anytime.

What a great snack! Love the cheddar flavor and the black pepper - perfect! I had to cook mine in 2 batches; in the first batch when I rolled the 8" circle my dough was thicker and the crisps were not as crispy (still tasted great tho!). The second batch I just rolled the dough as thin as I could and got wonderfully crispy crackers. Great snack with cocktails out on the deck - thanks for sharing the recipe!
In a large bowl, combine the first 5 ingredients.
Cut in the butter until crumbly.
Stir in cheese.
Sprinkle with water and vinegar.
Toss with a fork until a ball forms.
Wrap tightly in plastic wrap and refrigerate for 1 hour or until dough is firm.
Divide into 6 portions.
On a lightly floured surface, roll each portion of cough into an 8 inch circle.
Cut into 8 wedges and place on a greased baking sheet.
Sprinkle with pepper.
Lightly press into dough.
Bake at 375 degrees for 10-14 minutes or until golden brown and crisp.
Cool on wire racks.
Store in an airtight container.