Sara 76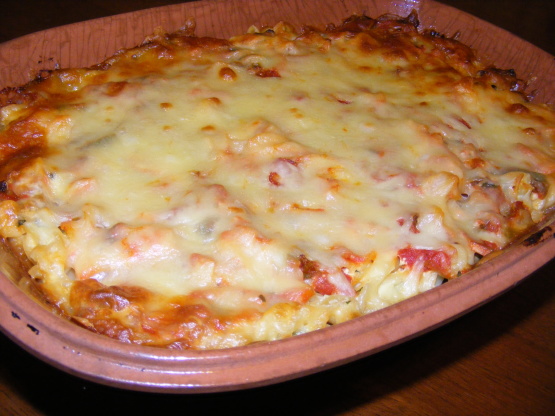 Kind of creamy, cheesey and saucy. Has a sort of "pizza-ish" flavor. You could use pretty much any tube pasta or even corkscrew pasta works well.
Preheat oven to 350. Lightly grease a casserole pan and set aside.
Cook rigatoni pasta according to package directions to al dente.
While pasta is boiling, heat olive oil in a saucepan over medium heat. Add the chopped onion, green peppers, garlic, mushrooms, basil and oregano; saute for about 7 minutes or until veggies are tender.
Add the crushed tomatoes and sugar to the saucepan; stir well and allow to simmer for about 15 minutes.
When pasta is done, drain.
Using the hot empty pot that the pasta just cooked in, mix together the ricotta, parmesan, sour cream, egg, parsley and salt; mix until smooth.
Return the hot drained rigatoni to the ricotta/sour cream mixture. Gently fold/stir together.
Place half of the creamy rigatoni mixture on the bottom of the prepared casserole dish.
Evenly pour half of the tomato sauce mixture over top.
Evenly place all of the pepperoni slices over top.
Sprinkle with 1 cup only of the mozzarella cheese.
Layer remaining rigatoni mixture on top, then remaining tomato sauce mixture, then the last 1 cup of mozzarella.
Cover and bake at 350 for 30 minutes.
Uncover and bake for another 15 minutes.
Best to let stand 5-10 minutes before serving.