kda949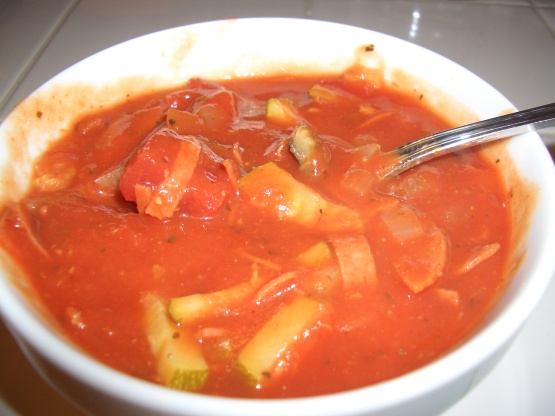 Just like eating a slice of pizza. 3 Weight Watchers points per serving. Sorry, this recipe isn't core.

I'm on a liquid diet and am craving pizza, this was pretty good! I pureed everything with an immersion blender and even though I didn't have the correct amounts of all the ingredients, it turned out nice. Very flexible recipe. I added chunks of parmesan off the block which melted into the soup to give it a great flavor. My 6 year old ate it with the addition of rice and gave me the thumbs up.
In a medium saucepan combine onion, green pepper, mushrooms, zucchini, and 1/4 cup broth.
Bring to boiling.
Reduce heat, simmer, covered, for 5 minutes.
Stir in remaining broth, tomatoes, pizza sauce, pepperoni, and seasoning.
Simmer 10 minutes.
Top with cheese.