Pepperoni Pizza Pasta Salad
This is a variation on one of my kids' favorites! Developed for Craze-E 6/09. Cook time = pasta cook time.
Salad

1 lb shell pasta, cooked
1 lb sliced pepperoni, chopped
2 tomatoes, cut into bite sized pieces
1⁄4 lb fresh mozzarella cheese
1⁄4 lb cheddar cheese
1⁄2 cup sun-dried tomato, cut into slivers
1 cup fresh mushrooms, sliced
1 cup bell pepper, various colors, diced
1⁄2 cup shallot, minced

Dressing

1⁄4 cup red wine vinegar
1 tablespoon Dijon mustard
1 tablespoon black olive tapenade
2 tablespoons honey
3⁄4 cup pure olive oil
salt & freshly ground black pepper
1⁄2 cup fresh basil leaf, cut into chiffonade
2 tablespoons fresh oregano leaves, minced
Directions
Cut cheeses into 1/2" cubes.
Combine all salad ingredients.
Whisk together all dressing ingredients.
Combine salad & dressing well.
Most Helpful
This is indeed a fun salad that reminds me of antipasto. I think the fat grams are way off since this could serve 10 and you can easily use half the amount of dressing and pepperoni, and increase the vinegar/oil ratio as suggested. The olive dressing (I used kalamata tapenade) was amazing and I will make it on its own again. I disagree with realbirdlady and think the cheddar cubes were yummy, but would omit the sundried tomato next time.

We loved this pasta salad and although I did make some changes to the recipe out of necessity, I believe I stayed true to the recipe and flavor profile. First of all, I have to say that the dressing stands alone by itself. I make the dressing first and would love to enjoy it on a green salad any time (which I probably will do)! I used medium shell pasta and about 8 oz. of sliced pepperoni (half spicy), which I quartered. My DBF does not like fresh mozzarella (shame on him) so I used shredded instead and also used shredded cheddar. I think this blended the cheese in better thoughout the salad. Instead of 2 tomatoes, I used halved cherry tomatoes. The bell pepper I was going to use seemed less than fresh, so I had to substitute a fire-roasted red pepper, which worked out well (and added to all the red colors). This makes a LOT of pasta salad, which is great as a side dish or as a take-along lunch. I will definitely be making this keeper again! Made for Aussie/NZ Swap #66.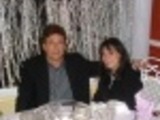 Wow, I am impressed if this was a contest recipe! We thought this was great, and that the tapenade really makes it. We loved that part so much that we added another 3 tablespoons! I also took the other reviewers suggestions to make this lighter and used 1/4 cup of the oil, half the meat (and used light salami at DH's request), and half the cheese. These changes worked great for us, though we thought it was still a ton of meat, and that you could do even less. We also thought the cheese could be omitted. The sundried tomatoes give this a nice tang, and the red peppers a nice crunch. To balance it we ended up adding another cup of mushrooms. All the flavors go so nicely together here. This fed 6 (like the recipe states), but I think you could easily add more pasta to stretch it to a few more people without adding more fat - or ingredients, since there is a very high ratio of them to pasta. Thank you for one of the best pasta salads we have made!