Pepperoni Pizza Bread for the Bread Machine
Rita~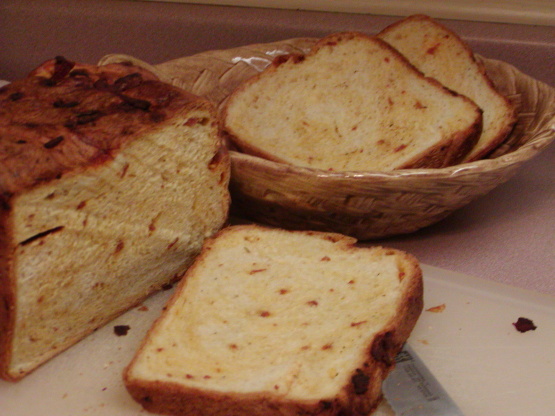 I have not made this yet but DS (the pepperoni lover) is dying for me to do it. Anything in the bread machine has got to be good! From a 1999 school cookbook. Times depend on your bread machine so judge accordingly.

I made the 1.5 pound loaf. Rose well and the crust was perfect for me at the lightest setting. Pizza flavour is subtle but good. My pepperoni practically dissolved even though I added it at the right time. No points lost for the recipe though, could have just been my machine and/or the type or pepperoni used. Only problem is the bread is quite dry. Again, could be my machine but until I attempt again I'll go with this rating.
Measure carefully.
Place all ingredients except pepperoni into bread machine in order as directed by manufacturer.
Add pepperoni (I think I will chop it up) 10 minutes before last kneading cycle ends (or at raisin/nut signal if your machine has it).
Use basic white cycle and medium or light crust color.
Do not use delay cycle.
When baked remove from pan and cool on wire rack.