Joyd9060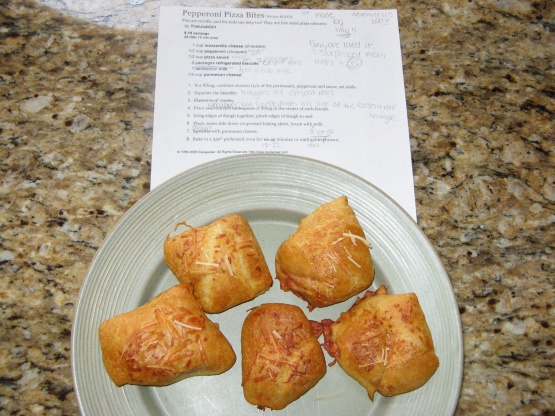 This are terrific, and the kids can help too! They are bite sized pizza calzones.

I didn't think that the taste was all that, however, the kids had a lot of fun preparing these. They were each able to add or omit any ingredients to personalize their own pizza bites. Fun to make with kids!
For filling; combine cheeses (1/2 of the parmesan), pepperoni and sauce, set aside.
Separate the biscuits.
Flatten to 3" circles.
Place one rounded tablespoon of filling in the center of each biscuit.
bring edges of dough together, pinch edges of dough to seal.
Place, seam side down on greased baking sheet, brush with milk.
Sprinkle with parmesan cheese.
Bake in a 350° preheated oven for 12- 15 minutes or until golden brown.