Mannymom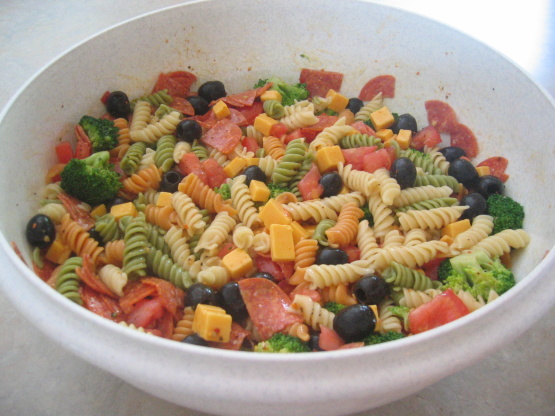 This is an excellent summertime recipe that makes a lot.

Awesome recipe! I only did about 3 oz of pepperoni - the pizza kind- cut in quarters. I added green pepper and red onion per the other review and what I ended up with was a salad that got rave reviews! All the flavors together are amazing! Great recipe and I loved the blanching of the broccoli!
Chop broccoli into bite size pieces and place into boiling water for about 2 minutes just until it turns bright green. Don't cook all the way.
Drain broccoli and set aside.
Bring rotini to a boil.
While rotini is boiling, chop the tomato, cheese, and pepperoni sticks.
Drain pasta and place into a large serving bowl.
Add pepperoni, broccoli, cheese, black olives and tomatoes.
Mix in the Italian dressing to desired texture and taste.
Sprinkle with Supreme Salad seasoning.
Chill in fridge.