French Tart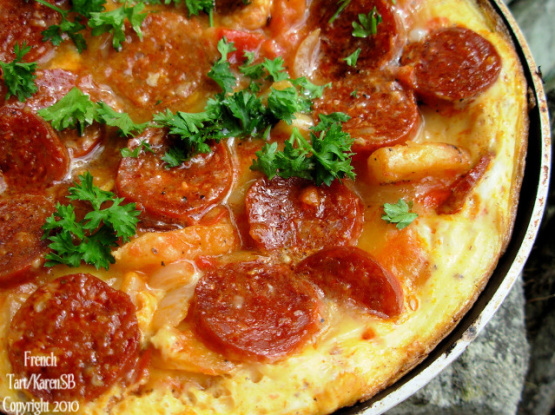 A great cure for a hangover. Serve with a few glasses of orange juice followed by a few glasses of water.

Very nice. We enjoyed this for dinner. I made as directed but used 4 eggs and did not measure the pepperoni (which I just put on my husband's side) or cheese. Next time I would like to use sausage and would add some green chilies. Made for Ausie Swap #33.
Whisk eggs in a bowl with Tabasco sauce.
Grate onion and potato into same bowl.
Add diced tomato and mix together.
Place mixture into a lightly oiled small skillet or fry pan over medium to low temperature.
Immediately layer pepperoni slices over the top and sprinkle with grated cheese.
Grind pepper over the top.
Cook around 15-20 minutes until egg has set on the top and cheese has melted, there is no need to flip it.