Pepperoni 'n Cheese Balls
Bergy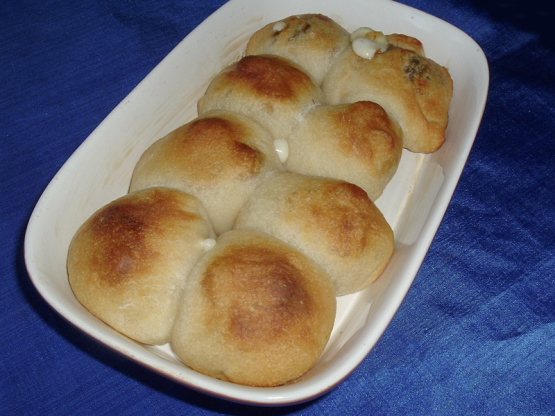 Easy to make treat that the kids and grownups alike will love. Cubes of mozzarella and pepperoni slices are enclosed in refrigerator French bread dough and baked. Found this on the internet, but I'm betting it originally came from Pillsbury who makes the dough.

These were really good! I've made them a few times.I did have some trouble rolling out the french bread dough,(the first time I made them) so the next time I made them I used pizza crust instead.
1

(11 ounce) can Pillsbury refrigerated crusty french loaf

32

slices pepperoni (thin slices)

8

mozzarella cheese cubes (1" cubes of)
Preheat oven to 375°.
Unroll dough and cut in half, then cut each piece in half and repeat until you have 8 pieces.
Place 2 slices of pepperoni on the corner of each dough square, then top with one cube of cheese, then 2 more slices of pepperoni.
Wrap dough around pepperoni and cheese and be sure to seal all seams well.
Place on a lightly greased baking sheet and bake in center of oven for 10 minutes or until dough is golden brown.
Note: If desired, brush edges of dough with an egg white and water mixture to ensure sealing.