Food.com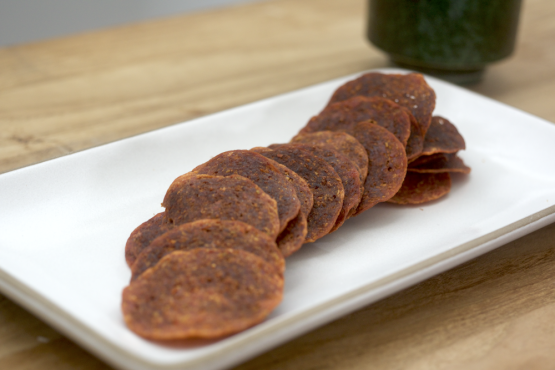 A Low-Carbohydrate alternative to Potato Chips. This recipe was taken from LowCarbCooking.org.

Top Review by GinaS
I've been making these for a long time, and could have sworn I'd rated them! Oh well... they are great! Crispy, spicy, fast and easy. One of the ways I've been using them (aside from just snacking) is to crumble them over my salad instead of bacon bits. Yum. Thanks for sharing this technique.
24

ounces pepperoni slices
Line a Microwave-Safe Plate with several sheets of papertowel. Place the pepperoni slices in a single layer.
Microwave for 30 - 60 seconds (depending on the wattage of your microwave). The pepperoni slices should be nice and crispy and most of the grease absorbed on the papertowels.
If any in the center are not crispy looking and still feel soft, microwave more in 15 second increments.
Salt if desired.