Pepperoni and Cheese Rolls (Made With Pizza Dough)
Juenessa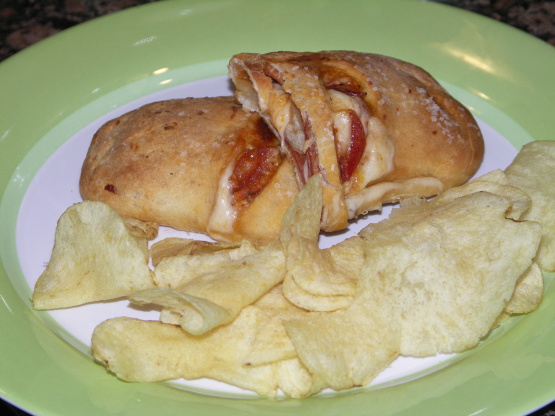 Adjust all ingredients to taste to taste. The amount of pepperoni and mozzeralla cheese you use will depend on how large your slices are, so the amounts listed are only estimated. Salami may be used in place of pepperoni or use both, prep time does not include making the pizza dough, I use Kittencal's Pizza Dough or Kittencal's Best Garlic Pizza Dough for the Bread Machine will work fine, or use your own favorite pizza dough recipe. Feel free to add sliced onions if desired.

A must have!! Very simple to make but make sure and not over fill. My first "roll" I made had to hit the trash (I overfilled and it never made it to the "oven stage", but the others were delish!!! I added oregano and garlic powder, as well as some sauted purple onions. (Hint: if you are having trouble keeping the dough (I used pillsbury) closed, use toothpicks)
1

lb prepared pizza dough

8

tablespoons grated parmesan cheese (1/2 cup, or to taste)

4

ounces sliced pepperoni (might use more)

15

slices mozzarella cheese
2⁄3 cup purchased roasted red pepper (rinsed and chopped)
salt (optional)

1

large egg, lightly beaten
Set oven to 400 degrees (set oven rack to second-lowest position).
Prepare a large lightly greased baking sheet.
Slice the pizza dough into 4 even pieces.
Roll out 1 piece into a 10-inch round on a lightly-floured surface, then brush the top of the dough with a small amount of olive oil.
Sprinkle about 2 tablespoons grated parmesan cheese over the dough, then black pepper to taste.
Arrange one-fourth (in one even layer) of the pepperoni slices, mozzeralla cheese slices and then the roasted red bell peppers.
Sprinkle salt and black pepper over the peppers if desired.
Roll up the dough round, then tuck ends under and pinch to seal.
Prepare the three remaining rolls in the same manner.
Arrange on a baking sheet.
Brush lightly with egg, then if desired sprinkle lightly with kosher salt.
Cut three (1/2-inch) slits into the top of the dough to allow steam to escape.
Bake for about 25-30 minutes.