Peppermint, Spinach and Pea Soup
kindcook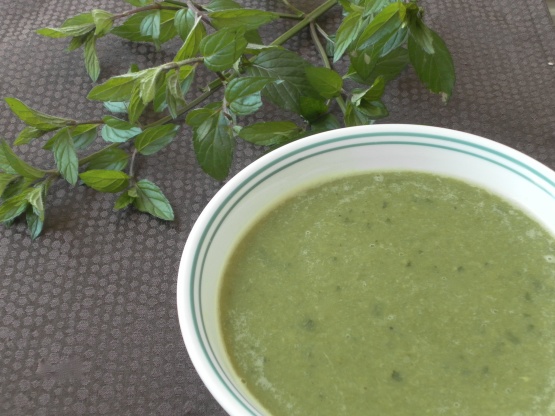 This is a refreshing light soup and it is a simple minimal recipe.

Ok, to be honest, I didn't think this soup would even be edible. I was gladly mistaken! I stumbled upon this recipe as I was trying to find some way to use up some of the never ending peppermint from my garden (one can only have so much tea) and I thought I'd give this a go, just for fun. My family was teasing me about my choice of this recipe and said they'd opt for something else for lunch. They were so surprised when I hollered from the kitchen "Hey...it's GOOD!" This reminded me a lot of split pea soup, but it is SO much easier. I usually make a crock pot version which takes a lot more prep and cook time and has a lot of ingredients, so I was excited that this reminded me of it so much. I had my dad try some (he's my split pea soup buddy, my mom won't touch the stuff) and he said he wished the texture was smoother (which a little more blending could have fix) but he liked the taste. Bottom line: if you like split pea soup you'll like this, and if you're like my mom, just make it for the pea soup lovers in your family. :)
1⁄2 large onion (finely chopped)

1

large spring onion (chopped)

2

cups peas (frozen is fine)

2

cups spinach (frozen in fine)
1⁄4 cup of fresh peppermint leaf

5

cups stock (i use miso paste)
salt and pepper
1⁄2 teaspoon nutmeg
- sweat off the onion and spring onions then add the stock.
- add the peas and spinach and seasoning with the nutmeg.
- let simmer for about 10 minutes then add the fresh peppermint leaves and leave to simmer for another 10 minutes or so.
- blend together and check for seasoning needed.