Peppermint Shortbread Cookies
mcleans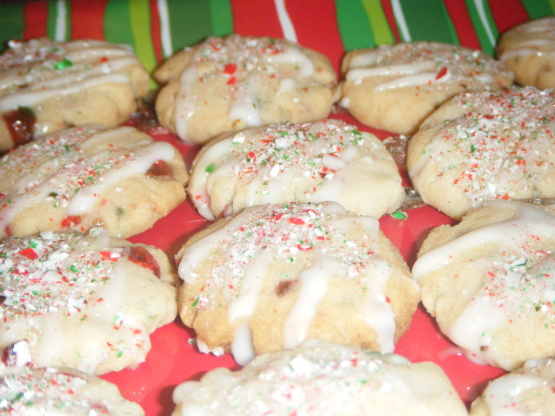 A festive shortbread cookie with a touch of peppermint. A great use for broken and left over candy canes! As posted by BakedChicago.typepad.com on 12/05/07.

I just took the first batch out of the oven so I decided I should try one to make sure they were ediable LOL! OMG!!! These are awesome even with out the frosting! I'm going to do some with frosting and some with drizzled chocolate... I can't wait! Thanks for posting this!
Mix butter, sugar, crushed candy and vanilla -- gradually blending in flour and corn starch.
Form 1-inch balls and place on parchment paper-lined baking sheets. Gently press down on each cookie to flatten.
Bake in 300°F oven for 25 to 30 minutes or until bottoms start to brown.
Cool and remove to a wire rack.
Combine confectioners' sugar, milk and vanilla until frosting is smooth. Drizzle on cookies and sprinkle with crushed candy.