Peppermint Pecan Candy Cane Blossoms - Cookies
BecR2400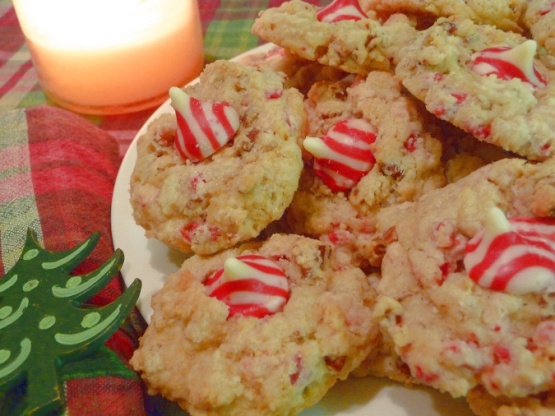 I combined two recipes found on the Andes and Hershey's websites, to create these super yummy candy cane blossoms - cookies! Perfect for the holidays, and beyond. Enjoy!
Preheat oven to 350 degrees F. Remove wrappers from candies.
Beat eggs in a medium bowl with the butter, sugar, vanilla, and water until well blended.
In a large mixing bowl, whisk together the flour, salt, and baking soda; stir in the pecans and the Andes candy cane mint baking chips.
Add the egg mixture gradually to the flour mixture, stirring to combine.
Shape dough into 1 1/2-inch balls (I used a small cookie scoop), and place on ungreased cookies sheets.
Bake at 350 degrees F for 12-15 minutes, until edges are lightly browned and cookies are set. Remove from oven; cool 3-4 minutes. Press a candy piece into center of each cookie. Remove from cookie sheet to wire rack. Cool completely. About 4 dozen cookies.