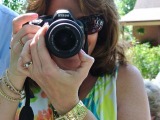 These are amazing! Better than York's because the chocolate is so much thicker. The yield is a guess as the recipe is from a friend who made them at Christmas and gave them as gifts. Fortunately, I was one of the recipients. This recipe has been updated to add more details after questions from reviewers. Cooking time is really drying time for the centers.
Directions
Combine the sweetened condensed milk and peppermint extract.
Slowly add the powdered sugar and beat.
Knead on a surface sprinkled with more sugar until dough is stiff.
(The stiffer the better when it come to the dipping part!) Add more sugar while kneading if the dough is sticky.
Roll 1/4 inch thick.
Cut into approximately 1 1/4 to 1 1/2 inch circles. If they are much bigger than that they fall apart when you dip them.
My girlfriend said she uses a screw-off wine bottle cap!
Let the cut patties dry for at least 2 hours on *each* side. They need to be really dry.
Melt chocolate & shortening it a double boiler; stirring constantly until smooth. Using 1 Tbls of shortening for every 6 oz. of chocolate. Keep chocolate hot for dipping.
Dip patties in melted chocolate. The method my friend has found to work best: she places them on a long 3-tined fork, puts them in the chocolate (it should be no more than 1 1/2 inches deep), flips them over to coat the other side, lifts them out again with the fork underneath the patty, shakes the fork to shake off the excess chocolate & then places the patty on waxed paper to harden.
Reviews
Most Helpful
These turned out great. I used peppermint oil (3/4 teaspoon) instead of the extract. I also did not let dry before dipping. They were fine.
When I read the suggestion to use a bottle cap I thought, "Wow, that's too small." I was wrong about that one. I made these closer to York pattie size and they were way too large. Some of them stuck together and the chocolate coating chipped off. On top of that, the peppermint was very strong and it overwhelmed the chocolate. To compensate, I quartered them, redipped them, and pretended I'd done it on purpose. I would definitely recommend going small on these... bottle cap-sized sounds just about right! I don't have a double boiler; I just used two saucepans of the same size and boiled water in the bottom one while nesting the second pan in it. It worked great.

These are fantastic!! Tedious, but so, so, delicious! I ran out of chocolate half way through, not sure why. Anyway, I froze the remaining disks and will dip them later. I used the plastic lid from my sparkling water bottle, tried using 1 T of shortening in the melted chocolate, thought it was too thick added more shortening and didn't care for the texture as much. It was good, but it changed the flavor of the chocolate. I think next time I'll use one of the Big Bars from Trader Joe's and I'll make these over two days. This was not the recipe to make after a long day of running around. I let these dry for 5 hour and they held up well, some of the disks did get a little soft while dipping. I think freezing them and pulling them out to dip in batches is a great idea. These are well worth the effort. Thanks so much for sharing the keeper recipe!