Kree6528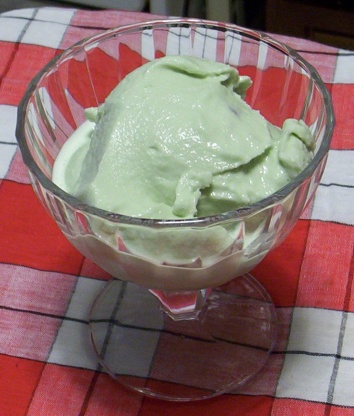 This non-dairy delight will wow even the pickiest ice cream eaters. It's just as good as its best dairy counterpart. If you want it harder you can also freeze it in an airtight container for a couple of hours after it comes out of the ice cream maker, but I like my ice cream soft so I eat it right away! You can also add more chocolate to fit your tastes. This is another recipe from Eating for IBS by Heather Van Vorous. Prep time does not include time to chill.

This is definitely a comfort food that my sensitive digestive tract can handle! I replaced the creme de menthe and the peppermint with peanut butter (see recipe #157005) to make a truly decadent dessert.
In a large saucepan, whisk together sugar and cornstarch, then whisk in soy milk.
Bring to a boil over medium heat, whisking frequently, and boil whisking constantly for one minute; remove from heat.
Whisk several large spoonfuls of hot milk mixture into egg whites, then whisk egg mixture back into saucepan of hot milk.
Return saucepan to heat and cook over medium flame, whisking constantly, until mixture returns to a boil.
Tranfer mixture to a bowl and stir in Creme de Menthe and peppermint extract.
Refrigerate until cold (or overnight, if desired--I find that helps it thicken up more).
Freeze mixture in ice cream maker according to manufacturer's directions.
Add chopped chocolate towards the end of the freezing process.