COOKGIRl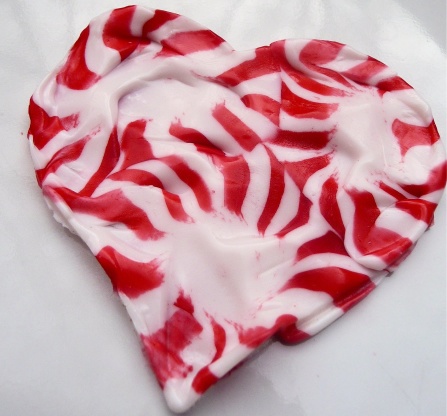 A very inexpensive treat for Valentines, Christmas or Wedding treats...really anything that you'd like to show someone you love them. Kids can easily help with this project. We've used both the red/white and green/white peppermint candies. You'll need metal cookie cutters for this recipe. I've had to write the ingredients out for one treat so you'll need to multiply for the ones you'd like to make. This works great in a toaster oven too.

I love this! :) Of course I waited to the last minute to try to find a heart-shaped cookie cutter (right before V-Day LOL) - I ended up borrowing one from my mom but the only one she had was 4". So I used 6 candies and broke them up into smaller pieces, which worked well (though 5 might have been enough). I also made a cinnamon heart (my personal candy preference :) ). I used an Airbake cookie sheet, and I'm not sure if it was the sheet or the larger amount of candy but it took about 7-8 minutes to melt together enough to keep the shape. I also put a piece of heavy duty foil underneath so I would be able to get it off of my cookie sheet easier. One warning - don't let it cool TOO much before removing from the cutter or it won't come out without breaking (there's a fine line between cool enough to handle and too cool!) Thanks for posting this fun recipe!
3

peppermint candies
heart shaped cookie cutter, metal
Preheat oven to 350 (this works great in a toaster oven too if you have one).
Gather: 2 1/4" metal heart shaped cookie cutter and a baking sheet.
Unwrap candies and place them inside the cookie cutter.
Bake in oven until mints BEGIN to melt (about 4-5 minutes).
Let cool enough within the cookie cutter before popping the treat out so it keeps it's form.
Cool completely on a wire rack.
To Decorate: Wrap mint in plastic wrap and tie a knot at the top of the heart and tie with curling ribbon or other fabric ribbon.