jswinks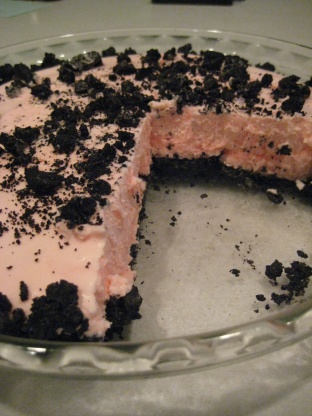 A fantastic and different dessert. A real hit with my kids!

Yummy! Was very rich, and smooth texture. I used Oreos for the crust and garnish. I probably could omit the sugar from the crust and would have been fine. I thought about trying with lower fat/sugar ingredients but since it was for photo tag game didn't want to risk it not turning out :) But I think I will try that next time. When I covered it, the foil touched the top of the pie so it wasn't as smooth anymore :( I just covered it up with Oreos on top though! I agree with other reviewer, could use a little less extract.
Preheat oven to 325 degrees.
Combine wafer crumbs, sugar and margarine or butter and press into 9 inch pie plate.
Bake at 325 degrees for 10 minutes. Allow to cool.
Melt 3 cups marshmallows with milk over low heat. Stir until smooth.
Chill until slightly thickened.
Tint with food coloring and mix well.
Fold in whipped cream, remaining 1/4 cup marshmallows and extract.
Pour into crust. Wrap and freeze.
Before serving, unwrap and place in refrigerator for 30 minutes.
Garnish as desired.