Prep 20 mins
Cook 50 mins

If you like pepppermint, this cake will knock your socks off. It's minty, fudgy, and full of delicious flavor. Amazingly, it's also low fat and completely IBS safe! This recipe is from the cookbook "Eating for IBS" by the wonderful Heather Van Vorous. You can also substitute almond extract for the peppermint for a different taste experience, or just leave out the second extract completely and double the vanilla! This is great with a chocolate or mocha glaze (see my mocha mint glaze!).
Directions
Preheat oven to 325°F.
Spray a 10 inch bundt pan with cooking oil and set aside.
Sift together flour, baking soda, cocoa powder, cornstarch, sugar, and salt in large bowl; whisk together well.
Whisk together applesauce, oil, vanilla, and peppermint extract by hand in medium bowl.
Add the wet ingredients to the dry with a few swift strokes just until blended.
Pour into bundt pan.
Bake 50-60 minutes, until a toothpick comes out with moist crumbs.
Cool on rack.
Most Helpful
This is pretty good. It had a distinct flavor. I think I would put the full TBSP of flavoring in next time instead of the recommended 2 tsp. It was moist and tasted pretty good. My husband liked it because it wasn't real sweet. I'll probably make it again. I like that it's low in fat/calories. Thanks for sharing.
I don't often bake from scratch - but this cake was easy to make. We all enjoyed it very much. I made a chocolate glaze for it from recipe #85721. I put just a little less peppermint than called for - but I did not feel it was too strong, so probably I will put the full amount next time. Thanks for the great recipe, Kree!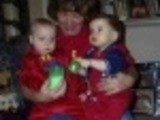 I have actually made this quite a few times. Now my family asks me to bring it to every family function. I'd give it ten stars if I could. P.S. If you don't have Heather's book, "Eating for IBS" , buy it. It has alot of really good recipes.