3 Reviews
Very tasty and easy to make. Will make it again and again. Thanks for posting.
Easy to make, wonderful to taste, a really easy winner...
This is a rich, creamy, highly naughty dessert that should be outlawed in diet circles world wide. In short, WOW! My DH doesn't like peppermint candies at all and I even got a "pretty good" out of him.I used the caramel instead of the sweet milk and loved that result. Thanks Lushka for this very good dessert.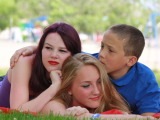 Peppermint Crisp Tart / Pie