Peppermint Christmas Cookies
Pamela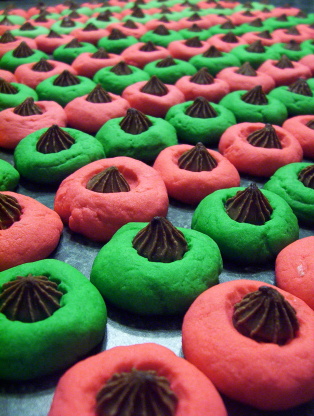 This recipe is a great one to make for Christmas Cookie Exchanges. These colorful cookies add a real festive treat to any holiday platter. I made these for the first time for a cookie exchange and I made a double batch of green and a double batch of red.

1/15/08: These cookies came out really good, but I deviated so much from the recipe that I can only give it 4 stars. First, I added some extra flour to the dough because the consistency was too mushy and wet. Then I added a whole bunch of extra peppermint extract to make the mint flavor come through. When that didn't do enough, I crushed a bunch of candy canes and mixed them into the batter. Then it was perfect! I also had to add the Hershey kisses about 2-3 minutes before the cookies came out of the oven, as opposed to putting them on in the beginning. The chocolate got all bubbley and the kisses' tops sort of burned when I put the kisses on first. Overall, a pretty good recipe - it just needs some tweaking. Thanks Pamela! UPDATE 12/18/08: I made these again and ran into the same problems as before. This time, I recorded the amounts I changed. I ended up using 2 1/2c flour, 1/4c extra sugar, and 1T + 1t peppermint extract. I also crushed 6 candy canes and mixed them into the dough. Also had to refrigerate the dough before baking so the cookies didn't spread into flattened blobs. Still tastes great though!
3⁄4 cup soft butter
3⁄4 cup icing sugar

1

egg

1

teaspoon vanilla

2

teaspoons peppermint extract
1⁄4 teaspoon salt

1

teaspoon green food coloring or 1 teaspoon red food coloring (paste colouring gives a deep shade)
1 3⁄4 cups flour

30

chocolate Hershey chocolate kisses or 30 chocolate rosettes or 30 chocolate wafers
Cream together butter, sugar, egg, vanilla, and salt.
Add coloring and mix well to distribute color evenly.
Stir in flour.
Shape in 1 inch balls.
Place 2 inches apart on ungreased cookie sheet.
Flatten each by pressing a chocolate in each center.
Bake at 350 degrees for 10 minutes, or until bottom starts to brown.