Peppermint Candy Cane Bark
SashasMommy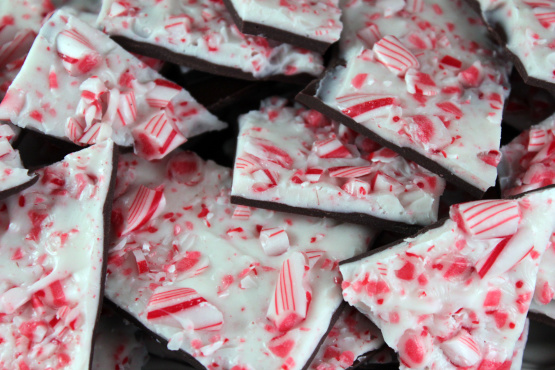 Every Christmas my friends and family look forward to this in the cookie tins I make for all of them. They get very upset when I do not make this. It is so easy to make. However, you will want to give them away as soon as possible because they are very addicting.

I used 1 lb regular choc. chips and 1 lb white, and mixed half the extract with each (actually, I forgot to mix the extract in the white, but you can't tell.) I layered the chocolate on the bottom and then mixed the candy cames with the white and layered on top. I reserved some candy canes to decorate the top. UPDATE- Made this again this year using Wilton's white chocolate and dark chocolate candy melts. I first did it with regular chips, but the white and the dark layers separated when I broke them apart and the dark layer got all cloudy. The Wilton is expensive, but it's beautiful (see photo!) I now reserve almost the entire amount of candy canes for the top; what I did this time is put them through a mesh strainer so all the really tiny pieces came out. I mixed the really tiny pieces in with the chocolate and scattered the rest on top.
2

lbs white chocolate (preferably Guittard brand white chocolate chips- they seem to melt smoother)

12

candy canes, crushed into 1/4 inch pieces

1

teaspoon peppermint extract (1/2 tsp. if using oil)
Melt white chocolate either in a double boiler or in a bowl over a pot of boiling water.
Stir in crushed candy cane and peppermint flavoring into melted white chocolate.
Line a 11x17" baking pan with wax paper.
Pour and spread chocolate mixture onto wax paper.
Chill until firm and break into pieces.
Refrigerate until ready to serve.