rosie316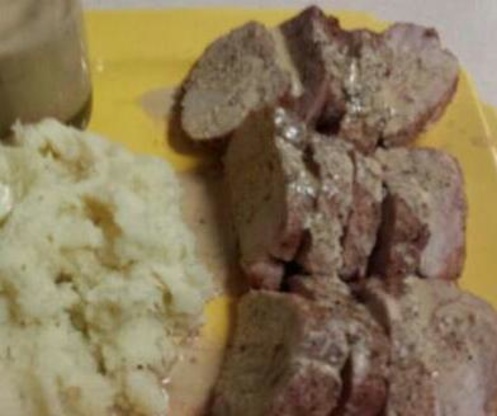 Recipe is from my "A Tasteful Medley of Memphis" cookbook. Peppered pork is really delicious - I've had it baked and I've had dried peppered pork. The pepper is not overpowering -- just adds a bit of a bite and a lot of flavor.

Made this for My 3 Chefs October 2013 tag game and this was delicious!!! I did cut the recipe in half for DH and I but otherwise followed the instructions. Like rosie316 it took a while for the sauce to reduce but DH didn't mind. Definately a keeper and one I will put into my rotations. Served with recipe#391901#391901, sweet potatoes, roasted radishes and recipe#189677#189677. A wonderful dinner. Thank you for posting.
Roll tenderloins in pepper to coat. Place in a roasting pan and bake in a pre-heated 350 degrees F oven for 30 - 40 minutes. Remove from oven, place pork on a cutting board and drain fat from pan. Pour wine into pan and place over high heat, scraping up any browned bits with a wooden spoon. Add broth and cook until reduced by half. Remove from heat and stir in sour cream and mustard. Slice pork and top with sauce.