KateL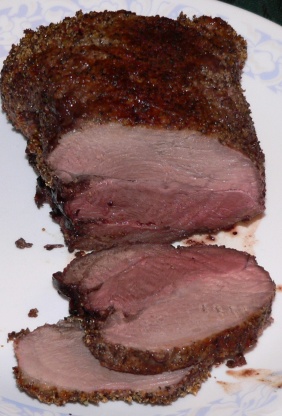 This is a recipe that I found when trying to figure out what to do with our average pork roast.... This is wonderful with mashed potatoes and gravy and fresh corn.....

I had a 1.5 lb roast that was cut off of a larger roast (the other half was used for another recipe). I rubbed the 1.5 lb roast with Mrs. Dash Extra Spicy seasoning blend and followed the roasting directions for this recipe with a meat thermometer in it. Removed from the oven at 160F and let it rest for 15 minutes out of the oven where it coasted to 165F. It came out juicy and really great, though next time I will probably take it out at 155F and let it coast to 160F. This will go into my file for the next time I have family over for dinner! Thanks for sharing!
1

(4 lb) pork loin roast (or 2 2-pound roasts)

6

tablespoons pepper blend seasoning
Rub all surfaces of roast(s) with seasoned pepper.
Place pork in shallow roasting pan and roast in 350*F. oven for 45 minutes to 1 hour and 15 minutes, until internal temperature (measured with a meat thermometer) reads 150-155*F.
Remove from oven and allow roast to rest for 10 minutes.
Slice and serve.