Prep 30 mins
Cook 20 mins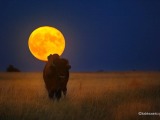 Found this recipe and the taste is spicy and sweet, and the chops come out juicy and not dried out. Great with roasted potatoes, and a nice salad. Hope you enjoy!
Directions
Brush fresh peaches with lemon to prevent darkening and keep refrigerated.
Combine garlic, coriander, pepper, brown sugar and soy sauce.
Place chops on shallow rimmed plate or pan and brush both sides with the mixture.
Cover and marinate at least 30 min (can be refrigerated overnight).
Grill chops over moderately hot coals, preferrably in a covered BBQ for 10-12 min per side, or until cooked thru.
5 minutes before chops are done, place peach halves on grill, brush with butter.
Top each chop with one peach half, sprinkle with chopped parsley and serve.
Reviews
Most Helpful
This is only OK. Brady Bunch Pork Chops is a better pork chop recipe. We tried this the other night and we loved it. I left out the peach part of the recipe because I don't like fruit with my meat. This makes a really juicy pork chop. I marinated for about an hour. The next time I'm going to marinate overnight because I think that will make them that much better. DH has already asked me to make these again! Thanks Oz!
Thank you for such a tasty recipe. DH proclaimed it the BBQ recipe for pork chops from now on. I didn't use the peaches as my stomach doesn't like fruit with meat. It was absolutely delicious. We're looking forward to the next time.