ImPat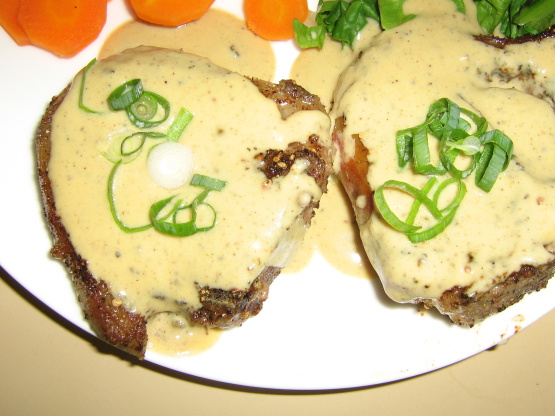 This is a very easy yet yummy lamb chop recipe, I used french trimmed lamb chops but any cut of chop would work just as well with this recipe. I served mine over creamy polenta topped with mushrooms and sprinkled with a few fresh chopped chives. I just saw kiwidutch's review PLEASE NOTE: I used a mild creamy french mustard not dijon that would be way too overpowering if you added 2 Tablespoons. Thanks Kiwidutch for pointing that out I should have made it more clear sorry if you almost blew your head off.

Thanks for a Friday night treat Flying Chef - took the advice of kiwidutch and made sure we didn't go too much on the mustard using a milder French mustard. But used pre ground fine pepper instead of freshly ground and only using maybe two teaspoons - perhaps that's why it cleared my sinuses! Thanks again for the inspiration!
Season chops with black pepper both sides about 3/4 Tablespoon (If you don't use quite 3/4 tablespoon, reserve whatever is left over for the sauce.) reserve remaining tablespoon for the sauce.
Cook chops either under the grill, BBQ or pan fry until desired doneness.
For The Sauce.
In a pan add milk, mustard, brandy, Worcestershire sauce and remaining pepper, bring to boil and then reduce to a simmer for a couple of minutes, add cream, heat through and serve over chops.
Note: I find the sauce thickens up enough this way, I have had a couple of times where I found it a little to0 runny, if this is the case just use a little cornflour to thicken.
Serve sauce over chops and sprinkle with chopped chives.