Peppered Herb Flank Steak
diner524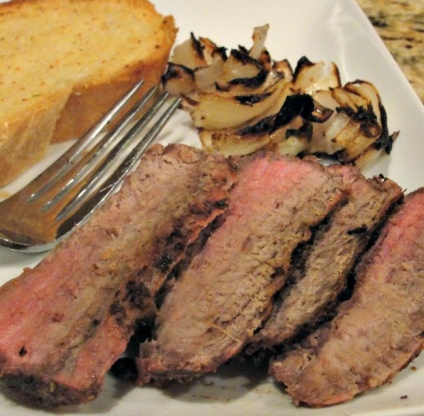 This is adapted from a recipe in Simply Classic, a junior league cookbook. The 8 hour marinating time is really required to make this flank steak delicious. Marinating time is not included in prep and cooking time.
WOW!!! This is so good!! I really wasn't expecting to think this would be a favorite recipe for this year, but it is!! I made this as written, although scaled back for 3/4 lb, and skipped the rosemary (not a fan what so ever of it). I made the marinade, added the steak and then put it all in the freezer until the next afternoon. I then brought it to room temp prior to grilling. The combination of the vinegar, green onion, thyme, pepper and mustard is so good and flavorful. This is a recipe that will definitely be used in the future. I served it with some grilled onions, salad and garlic bread. Thanks for sharing this yummy recipe. Congrats on your win in the football pool!!
Combine the first 9 ingredients in a small bowl; stir well.
Place the steak in a large heavy-duty, zip lock bag. Pour the marinade over the steaks; seal the bag securely. Marinate in the refrigerator for 8 hours, turning occasionally.
Remove the steaks from the marinade, discarding marinade. Cook, covered with grill lid, over medium-hot coals for 7 to 8 minutes on each side or to desired degree if doneness.
To serve, slice the steaks diagonally across the grain into thin slices. Garnish, if desired.