Peppered Flank Steak and Salsa
pammyowl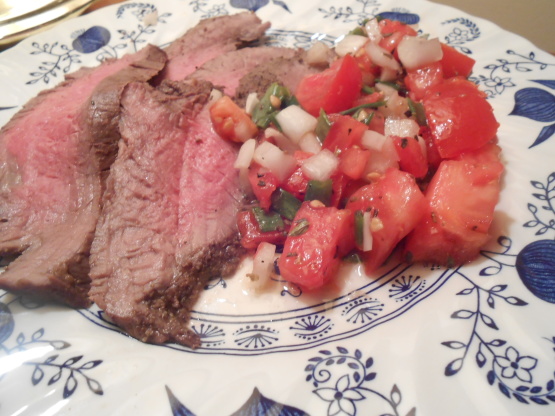 Paired with Two-Bean Toss#460590, and with a roll of bread, this makes for a complete meal.

Excellent steak! I could not find flank steak so I used "flat iron" steak which is really tender and lean. We enjoyed the salsa -- used some home grown tomatoes from the Farmer's Market. This dish is great with a salad and twice-baked potatoes. Great summer grilling choice. Made for PRMR, July, 2013.
Preheat grill to medium-high heat.
Combine the first 6 ingredients in a small bowl, and mix.
Rub spice mixture over both sides of steak.
Place steak on a grill, and grill 6 minutes on each side or until desired degree of doneness.
Let stand for 5 minutes.
Cut steak diagonally across grain into thin slices.
Combine diced tomatoes and remaining ingredients .
Serve salsa over steak.